What comes to mind when you think of the metaverse? Do you think it's a future "heaven on earth" with limitless opportunities, or a strange escape from reality? Both points of view have a place to be, as most innovations already introduced in our lives have both positive and negative effects on us. Indeed, the metaverse could carry risks for our mental health. At the same time, it can bring a lot of benefits for the healthcare sector. So, before we get into the effects the metaverse has on healthcare, let's clarify what the talk is about. 
The Metaverse Explained in Short
For many, the term "metaverse" seems ambiguous and complex. To make it easier to understand, try to replace it with the word "cyberspace." The meaning will not change significantly 90% of the time. So, broadly speaking, "metaverse" refers to the shift in how we interact with technology rather than a specific type of technology. 
In general, the technologies that companies refer to when they talk about "the metaverse" can include virtual reality (meaning the virtual worlds that exist even when you're not playing) and augmented reality (the concept combining aspects of the digital and physical worlds). It does not, however, require that those virtual spaces be accessed solely through VR or AR. For example, virtual worlds, such as Fortnite elements, accessible via PCs, game consoles, and even phones, have begun to refer to themselves as "the metaverse" as well. 
The recent announcement of Facebook's rebranding to Meta sparked widespread interest in the concept of a VR-based metaverse and its impact on our lives. However, Facebook is only one of hundreds of key players that are taking part in making the metaverse a reality. For instance, here are some of the companies that have already tried using metaverse technologies in practice:  
Microsoft Teams

, the software online meeting competitor to Zoom, launched Mesh in February 2022, allowing Teams users in different physical locations to join collaborative and shared holographic experiences.

Second Life

platform, whose development dates back to the late 1990s, is the prototype of the metaverse idea. The platform offers user-generated content where people can interact in real-time, have highly customizable avatars, and can do the same things as in real life. 

The Sandbox

lets users create and monetize virtual worlds by selling or trading their experiences, services, and products. With the help of non-fungible tokens (NFTs), users can buy and sell real estate in the metaverse.
Metaverse and Healthcare 
While the metaverse is still in its early stages, investment to this sector is increasing. According to GlobalData, the AR and VR market will grow from $11 billion in 2020 to $204 billion by 2030. According to Citi Global Insights, the metaverse itself could be worth $13 trillion by 2030.
From mental health and physical wellbeing to complex surgical procedures, the metaverse has the potential to improve all aspects of healthcare. The newest technologies such as artificial intelligence, augmented reality, virtual reality, and the Internet of Medical Things are already being tried during pandemic as well as for the treatment of post-traumatic stress disorder symptoms. Let us look at some of the ways the metaverse is going to change healthcare:
Telehealth 
According to McKinsey research, the use of telehealth increased 38 times from the pre-pandemic baseline to 2021. With the metaverse, it will be possible to expand traditional telemedicine services. For example, healthcare providers will be able to virtually examine patients and potentially diagnose certain health conditions in the metaverse. Moreover, patients will no longer be limited to healthcare professionals in their geographic location thanks to metaverse telehealth consultations.
Patients in the United States could consult with specialists in Australia, and vice versa; to make it real the only thing is required – that both, the patient and the provider, wear headsets. This is especially useful in areas where there is a shortage of medical professionals or where people have difficulty accessing medical help. Many alternative medical sectors, like cannabis business, aromatherapy, homeopathy, are also making full use of the telemedicine, providing consultations, assessment of qualified conditions, and fast online assistance in obtaining a medical card or necessary healthcare products.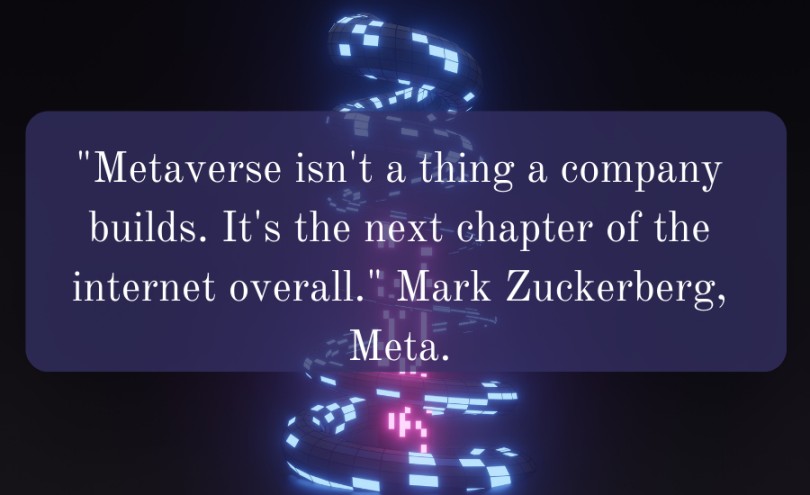 Medical Education and Training 
The traditional medical system provides limited resources for surgical practice, in part because procedures on cadavers are expensive for hospitals, which also affects a student's tuition. The use of Virtual Reality in medical training, on the other hand, allows students to get immersive surgical training in a simulated environment at a significantly lower cost. Indeed, in the metaverse, the possibilities for solving problems, developing creativity, and creating experimental environments are practically limitless.
Today, virtual reality is already being used to teach other doctors and medical staff by an increasing number of physicians and professionals. One can use virtual reality to simulate operations in the real world. Every interaction's details can be seen on the desktop displays. IoT, DLT, 6G or even 10G networks, robots, BYOC interfaces, AI, cloud, edge, and quantum computing are used in the development of VR, AR, and MR systems for medical diagnosis, treatment, and disease prevention. Let's get some examples.
The WHO Academy has launched a new augmented reality feature in their training app to show health workers how to stay safe when working with COVID-19 patients. The app demonstrates how to properly put on and take off personal protective equipment. During the demonstration, an app user can observe a figure putting on and removing PPE and then direct the figure's movements, thus virtually executing instructions rather than simply watching a tutorial video.
Another good example is Novarad Corporation, a medical software company that has released their OpenSightTM Augmented Reality System for Education. This system provides students and teachers with an immersive experience of any donor studies that can be performed with a CT scan. Students can manipulate holograms with voice commands using a Microsoft HoloLens 2 headset to show organs, bones, and soft tissues.
The Metaverse Potential for Surgery 
AR and VR simulations in the metaverse are a safe way for surgeons-in-training to hone their skills while dealing with a variety of technical challenges and complications. During an operation, a surgeon can even use a head-up display to see screen data or images without having to look away from the patient on the table. With fully integrated monitoring of vital signs and invasive procedures, surgeons are able to perform live surgical procedures for training purposes or contact specialists for assistance in the course of an emergency situation. 
Metaverse for Mental Health Treatment
The metaverse has the potential to transform mental health care as well. Mental health professionals and psychiatrists could use the metaverse's immersive experiences to treat issues such as:
PTS

Anxiety 

Delusions

Psychosis

Hallucinations

Eating problems
Furthermore, the metaverse could provide access to mental health care for people who are disabled or face geographic barriers to receiving this care.
Virtual reality exposure therapy (VRET) is the way for people suffering from PTSD, anxiety, pain, and phobias such as claustrophobia, fear of driving, fear of heights, fear of flying, and social anxiety, to overcome their fear and start living a more full and healthy life. When a person is plugged into a programmed environment that mimics unpleasant experiences, the therapeutic effect occurs. 
GameChange is one of the first startups to place patients in a life-like simulation with a therapist to help them rethink their distorted attitudes. After 66% of participants confirmed a significant improvement, the FDA approved the treatment of EaseVRx, another remarkable company whose prescription-use VR system helps with lower-back pain, in 2021. To summarize, this is one of the most promising areas for combining the metaverse and healthcare.
It is also possible to develop new approaches to connect healthcare workers and patients in real-life situations using gaming concepts. At the moment, the use of augmented reality in healthcare is limited to wellness and fitness apps, such as the use of virtual teachers to provide better exercises. Virtual reality has also improved the quality of life for dementia patients.
Furthermore, it is common to see young children who are bored or afraid of clinics and hospitals. In that case, the metaverse can provide a more enjoyable experience while visiting a doctor, which may alleviate their concerns. Simultaneously, it may make it easier to teach children the importance of hygiene and healthy eating in a fun and interactive way.
More Interaction Opportunities for Brands
Pharma brands are already experimenting with new engaging customer experiences provided by meta. New immersive tools and highly engaging content open the door to a fun retail environment as well as virtual events that simplify difficult concepts.
In order to launch an online store in a virtual environment, CVS filed a trademark application. The objective is to enhance programs for wellness and healthcare as well as services like counseling and non-emergency medical care.
For their clients, a number of CBD businesses have introduced online dispensaries and telehealth services. Through virtual cabinets of such sites as AffordableCertification, customers can now learn about all qualifying conditions and speak with doctors. They can buy cannabinoids, which are used to treat anxiety and a number of other conditions. 
Takeaways
Whether metaverse technologies become a success or not in the future is unknown. Despite the privacy and security issues raised by the concept of the metaverse, medical professionals are ready to take advantage of technological advancements for better patient care. That's because Web 3.0, the platform for the metaverse, will include decentralized applications that support a decentralized crypto economy and is based on blockchain technology. Moreover, it's already evident that a VR-based metaverse will be essential to further technological advancements that will completely transform the healthcare sector. It would be fascinating to see more advancement in healthcare as the Internet of Things gains momentum.
Also Read: How To Make Own Cryptocurrency